Shopping Cart
Your Cart is Empty
There was an error with PayPal
Click here to try again
Thank you for your business!
You should be receiving an order confirmation from Paypal shortly.
Exit Shopping Cart
Optimizing the health of New Orleanians
We have been honing our okra recipe, and the final version was so good it inspired a hilarious and wonderful video review by Aria's mother in the style of Tabitha Brown!  It has the perfect blending of Creole and Indian spices to create a unique flavor. The best part is the okra is not slimy, but finds a perfect balance between a healthy crunch and a delicious smother. We made our okra masala with fresh okra from the farmers' market. Look how beautiful they are raw! You can also see a shot of the finished product. All our class participants had a good time, ate well, and learned a lot about Ayurveda. We hope to see you at the next one!
Here is a link to the recipe:
https://www.crescentcityayurveda.com/CreoleAyurvedaSmotheredOkraMasalaRecipePDF.pdf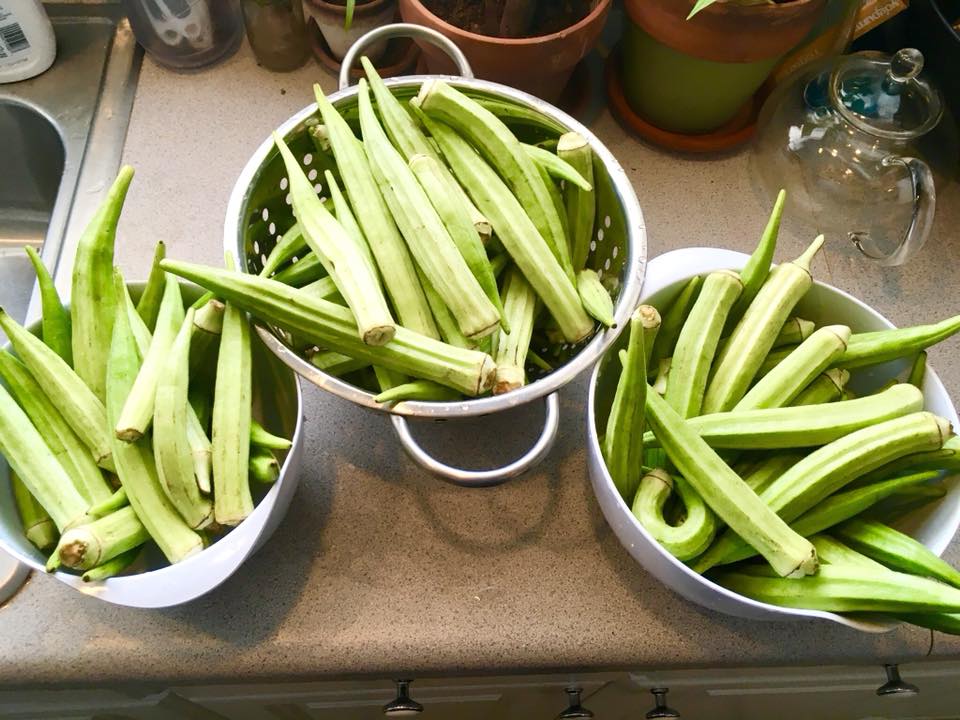 This Friday's delicious and healthy fish recipe is Dijon Pecan Baked Salmon (recipe).




To make the recipe more local, we used Steen's cane syrop in place of maple, and of course added a dash of our own love seasoning to the sauce. What I loved about this recipe was the crunchiness of the pecans, and how that balanced the softness of the fish. Plus, with a sauce made from butter, cane syrop, and dijon mustard, it's pretty much cheating it's so good!




Before I started these Fish Fridays for Lent this year, I hadn't cooked fish much, since I mostly cook vegetarian food. I've actually been surprised by how easy most of these recipes are! You just need to make your sauce, cover the fish in it and put it in the pan, and then bake it in the oven for about 15 minutes. Not only that, but they are really good! We thought we were making a sacrifice by giving up fried seafood, but by doing so, it encouraged us to try new baked fish recipes at home instead of going out for fried fish. I'm very grateful to my partner, Aria, for coming up with this idea and encouraging me to do it!




Salmon is one of the most healthy fish, primariy because of its high content of omega-3 fatty acids. It's also a great source of high-quality protein, B vitamins, potassium, and selenium. The red color of salmon comes from Astaxanthin, a member of the carotenoid family of antioxidants, the same family as the carotines that give carrots their orange color. Salmon may prevent against heart disease, aid in weight control, fight inflammation, and even protect brain health (see this page by Franziska Spritzler, RD, CDE). It's amazing that a food, especially a fish, can provide all of those health benefits because of its anti-inflammatory and antioxidant properties. To maximize these benefits, it's best to have wild salmon, and we were lucky enough to find wild salmon on sale at Whole Foods. But even studies conducted with farmed salmon have shown that it increases the omega-3 fatty acid level in the blood.




From an Ayurvedic perspective, this recipe is best for vata dosha. Salmon is good for vata because it is a saltwater fish and is rich in healthy oils. Plus, the dijon mustard brings warmth which aids digestion, helping you get the maximum benefit out of the salmon. The pecans also add even more protein, nourishment, and healthy oil, all of which are great for vata.




If you try any of these recipes and enjoy them, please post a comment here or on our FaceBook page. And if you would like to schedule a consultation to learn about how you can apply Ayurveda in your own life, please send me an email at [email protected] 




Have a wonderful weekend!

Today marks the beginning of Lent, which in New Orleans is a great day to recommit to healthy lifestyle for the duration of the season. For me, it's a day to commit to embodying Ayurvedic lifestyle practices, and to my practice as an Ayurvedic consultant.




In this spirit, I would like to announce a new special: for the duration of Lent, all individual consultations will be only $40. This is my lowest price, so if you have been thinking about starting a sequence of visits, now is the best time to do it. If you are a past or current client and you have friends who you think would be interested, please let them know about the opportunity.




Consultations bring together all aspects of Ayurvedic practice, such as self-care, culinary medicine, and overall wellness. Take this marvelous opportunity to embrace reflection that could lead to a beneficial life change for you. If you've been to one of my public talks or our recent cooking class, individualized consultations are the way to take Ayurveda to the next level by applying it to your lifestyle with weekly support from a practitioner. I look forward to you joining me!

Namaste!




On this blog, I will be sharing some of the Ayurvedic practices that I do for myself, and which anyone interested in having a more balanced lifestyle can do to promote wellness.




This weekend I made some "ginger brew," a strong decoction of ginger. Traditionally, ginger tea would be drunk hot, often with lemon and honey. Since it's summer in New Orleans and so hot, I've been trying an alternate method, adding a splash of this concentrated ginger tea to a glass of water with a squeeze of lime juice.




To make the ginger brew, I chopped a large piece of ginger into thin strips, and placed it in a small pot of water. I brought the water to a boil, and then let it simmer with the cover ajar for an hour, or until about half of the water had boiled off. Then I store it in a glass bottle in the fridge. You may want to add honey to it before refrigerating while it is still hot.




In Ayurveda, ginger is considered best for the vata and kapha doshas, because of its heating quality. It also is used to build the digestive fire, known as agni. In other words, ginger is a great digestive aid, which stimulates appetite and prevents gas and bloating (i.e. vata) or heaviness and lethargy (i.e. kapha) after eating. It is also famous for its anti-nausea (i.e. kapha) properties. However, please note that ginger would be contraindicated in cases of burning indigestion (i.e. pitta) because of its heating quality. It is also traditionally used for arthritic joint pain, especially due to vata-type arthritis. 




For more on the health benefits of ginger, check out this link at the Chopra Center:

http://www.chopra.com/articles/the-health-benefits-of-ginger-tea#sm.0012eq6ex1ce3dugq8y1ig555ciod




To set up a consultation with me to identify your Ayurvedic constitutional type and develop an individualized plan to improve your digestion, email me at [email protected]




In good health,

Henri Folse

0

/